Frequently asked questions (FAQ)
Manual and Catalog description
01. Downloading
All catalogs and manuals are printable PDF file without any protection (basically with bookmarks for your convenience).
We don't keep files on the server. All manuals from order are uploaded after payment (PDF or ZIP file). The link(s) will be send to you and you can download these files.
Please keep in mind that even if your file is ready, it takes some time to download it and send you a link. Also consider the time difference. In short, be a little patient.
Sometimes (very rear) the site is out of order short time. Of cause in this case you cannot download the files. We solve the problem within 0,5-4 hours. Nobody complains of this reason for many years.
Sometimes the customer writes "When I try to download file I see page Error". The reason is - we have already deleted file(s) from server.
The system marks when somebody tries to download file. I see that and delete file.
This happens when you interrupt the download (need to leave urgent, etc.) or you tried to download a very big file on your mobile phone etc.
Today I keep file on the server within 2-3 days after file marked.
Don't worry. Write a letter. We'll upload file(s) again and send link.
See sample letter from customer: "Hi Victor, I just went to download the service bulletins link and it says error. I stupidly didn't download them with the other two a few weeks back, is there any chance you could activate the link again for me. The engine manuals have been a great reference by the way, thanks!"
Our reply is "YES".
02. LANGUAGE of the manual
The language of all manuals is English unless specified other.
Abbreviation: en-English / de-Dutch (German) / fr-French / es-Spanish / pt- Portuguese / ru-Russian / jp-Japanese / cn-Chinese.
03. Manual description.
The manuals title (name).
Different companies call their instruction differently. This sometimes leads to confusion. People do not always understand what they really need. This is one of the reasons why we do not set the online payment from the website.
You and I have to clear understand what manual will be helpful for you.
Please see the brief explanation with small remarks.
Operation manual = Operation and Maintenance Manual = Operation and Service manual = Operator manual = Owner manual etc.
Manual contains the technical guidance to operate and routine service (like changing the oil, oil and air filters, greasing elements etc.) your machine or diesel. Sometimes the manual is included troubleshooting guide.
Service Manual = Workshop manual = Repair manual = Work manual = Maintenance Manual = Instructions for Exchange of Subassemblies (MTU)
Instruction or the set of instructions contain technical guidance to repair your engine. These are disassembly and assembly, clearances, tongue specification etc.
Typical content of service/workshop manual.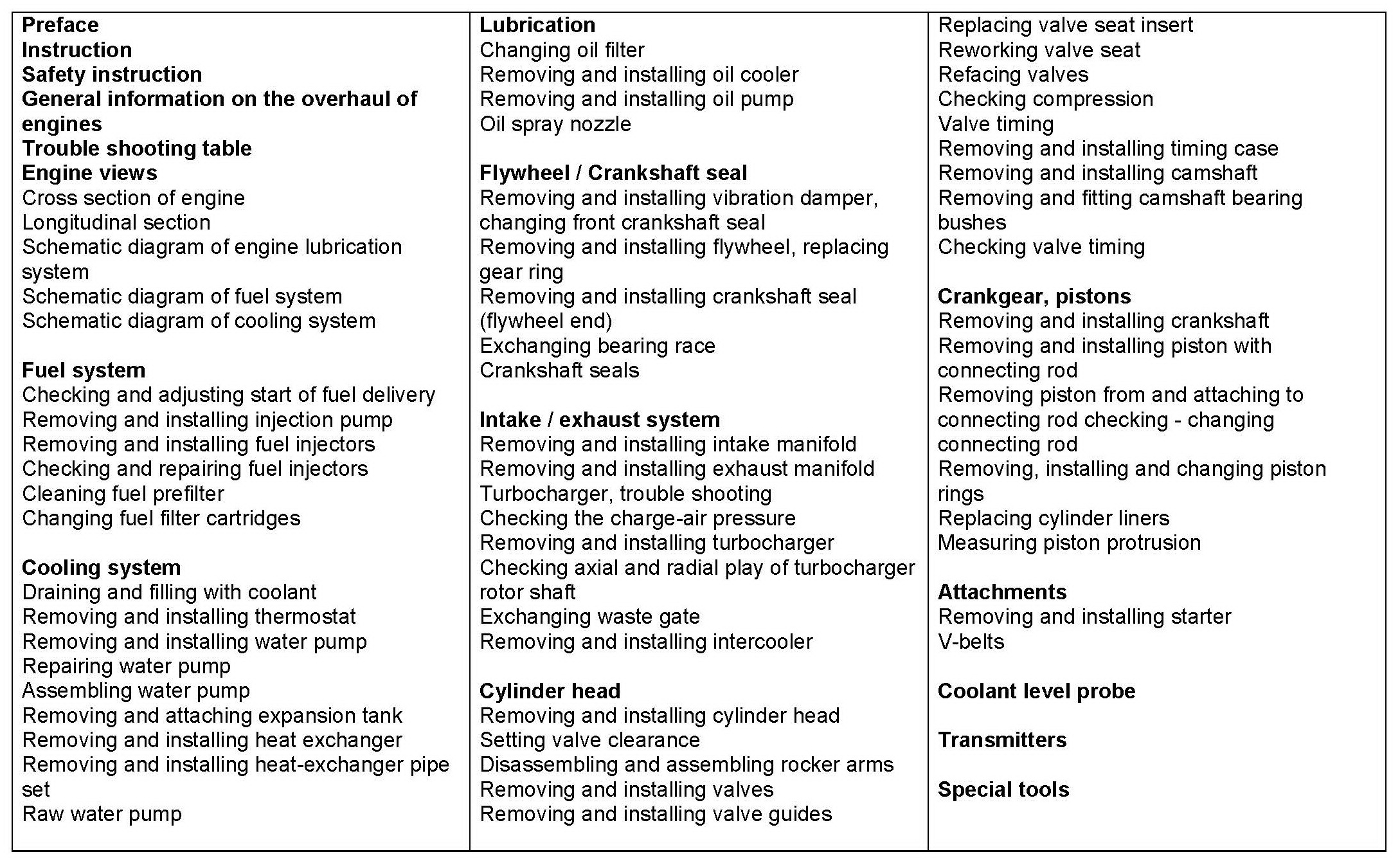 Parts catalog = Spare parts Catalog = Spare parts book = Parts List = Components Manual
The book contains identification system of the machine parts with parts numbers. The book helps to find and order spare parts for your equipment or diesel engine.
Sometimes Instruction contains Operation, Service (repair) and even parts catalog. This is one big PDF file (book).
Service letters = Service bulletins = Technical information bulletins (letters).
This is important information contain data about operation and repair your machine. Service letter has priority over the instruction. For example, if Service letter indicates a change of tightening force you need to use the data from the Service letter and not from Instruction.
Spare parts catalog for specific serial number
We can made catalog for your engine/equipment specific serial number.
You can use this catalog for the engine with other serial number. But we can't guaranty that it exactly corresponds to your engine. Decision is up to you (check content and drawings).
GENERAL (STRUCTURED) Spare parts Catalog or Service Manual
We can offer the General spare parts catalog.
The General spare parts catalog are included all drawings for specified engine model or for all engine models sometimes.
Such catalogs are very comfortable for spare parts dealers and not useful for shipowner or machinery owner.
UNIQUE (SINGULAR) Parts Catalog or Service Manual
That means that only one or several our customers have this catalog or manual or set manuals.
04. Can I pay by credit card to you directly?
NO. We don't want to accept and keep any your payment data. We can't provide high level safety like specialized payment company (we pay fee for your safety). We'll send all way of payment in our offer letter. It's enough in 99,8% cases. If we'll find new safely way of payment we add it. Offer your way of payment. We'll check if this way is acceptable for us. It will be help from your side.